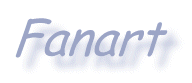 Okay, as I personally can't draw worth anything, this section is going to be
pretty much reliant on submissions. (Trust me, you don't want to see my work.)
To submit fanart, go check out the Submissions page. And do submit your own
work, as I try my hardest to be free of stolen fanart. I'd put up one of those
spiffy StoFF banners, but the main site is down, and the irony of stealing
a StoFF banner from another site knows no bounds.
Anyway, click the thumbnail for the full picture.

Fanart by Ajora

It's Koushirou. With guns. Matrix style.
*Melts into a puddle of fangirl goo*

A sketch of Koushirou with shades on.

A drawing of Jou with a book.


Jou and Koushirou in a steamy encounter. (lime)

Fanart by Tazzy

Oekaki fanart of Jou and Koushirou.